Thanks to popular ninja warrior television shows, the idea of ninja warrior gyms has caught on across the nation. Ninja warrior gyms present a wide array of possible activities, which creates a fun and exciting workout opportunity.
If you've searched for a similar option in your area and found nothing nearby, it may be time to consider opening a ninja warrior gym on your own. With the growing popularity in an already-established, multi-billion dollar industry, you can provide a vital fitness service to athletes in your local area.
While it's exciting to begin planning your obstacles and talking to customers, there's much more that goes into a successful startup. You'll need all of the following to start your ninja warrior gym:
1. BUSINESS PLANNING
In some ways, creating a ninja warrior gym business plan looks a lot like other business startups. Clearly, as with any startup, sharp business skills are going to be vital in developing your plan, handling finances and directing resources. If this isn't your background, the U.S. Small Business Administration (SBA) offers many online courses that can help you prepare to launch your business.
Another critical task is establishing your business structure. While this may initially sound straightforward, deciding whether you will classify as a partnership, a limited liability company (LLC), corporation or cooperative, your business structure will determine what types of taxes you'll pay and other essential legal aspects.

2. FITNESS EXPERTS
If you're asking how to start a ninja warrior or parkour gym, you'll likely have at least some interest in fitness. This is extremely important for several reasons. First, having a partner whose primary interest is in constructing the gym experience they've dreamed of will help drive the vision for the gym itself. They will be able to use any previous experiences at other fitness clubs — both what worked for them and what didn't — in designing an ideal experience for customers. This interest in fitness is also key to keeping the fitness experience up to date. Customers interested in a ninja warrior gym thrive off of new experiences and challenges. Finding new and creative ways to challenge your ninja warriors is integral to keeping them engaged and active.
3. LEGAL ADVICE
Any small business is going to need appropriate legal counsel in covering everything from licenses to ownership. In addition to this, you will need to seek legal advice on insurance, liability, wording and any other factor that may involve the safety of the athletes. Any solid ninja warrior gym business plan is going to be closely tied to the advice of consultants.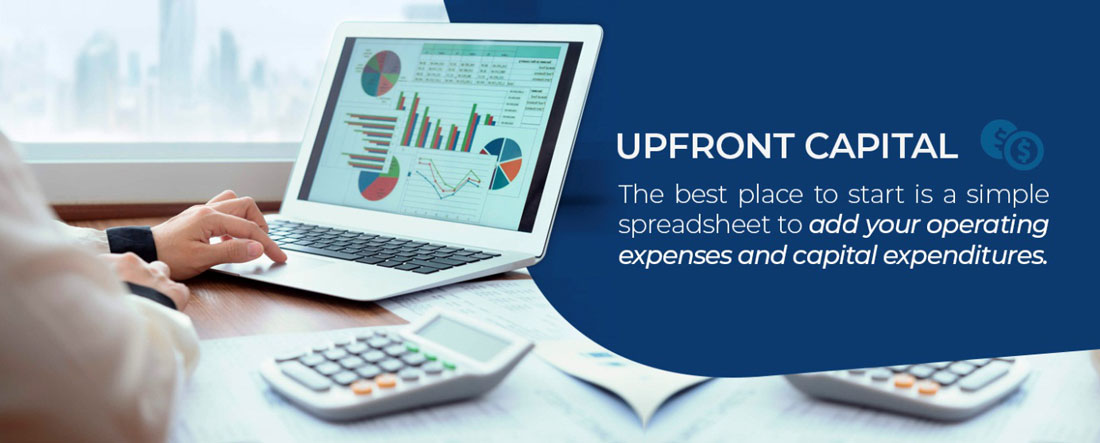 4. UPFRONT CAPITAL
It can be difficult to assess the possible costs of any startup business because you'll run into some unexpected snags. Moreover, it can be even more challenging to identify exactly how much it costs to build a ninja warrior course since you can interchange so many variables. However, the best place to start is a simple spreadsheet to add your operating expenses and capital expenditures. Your costs will cover the cost of market research, any necessary travel, employee wages, legal consultants and advertising. Some of these operating expenses may be tax deductible, but it is essential to discuss with a certified public accountant (CPA) or another tax professional before making any decisions based on those assumptions.
Your capital expenditures, on the other hand, are the physical items you'll need to purchase. This includes discussing possible equipment, which is where you'll likely spend most of your initial capital expenses. However, this will also include furniture, computer systems, security alarms and just about any other physical object you may need.
5. FACILITY
The last major expense to examine — one that will vary drastically depending on your area — is your facility. Discuss your needs with a commercial real estate company in your area to get a better sense of possible renting or purchasing costs. How you obtain the rights to the building will factor into how you calculate it as a cost. For instance, if you buy a facility outright, this will be considered a capital expense. Leasing is a little more complicated, as a capital lease — or an owner's lease— provides certain privileges and costs that a basic operating lease — in which you have no ownership rights at all — will not cover. Leasing laws vary by state, so it is essential to check your local regulations before deciding which lease will be right for you.