SEA EXPO 2023 proved to be a triumph of innovation for Topkidsplay, as we left an indelible mark on the industry and impressed visitors with our captivating indoor playground solutions. From our perspective as a pioneering provider, we are thrilled to recount the impact we made during this prestigious event.
Booth 1E108 became a hub of excitement and wonder as attendees explored our exceptional play areas. With our expertise in indoor playground design and a comprehensive range of services, we showcased our ability to transform entertainment centers into immersive wonderlands.
The event was an opportunity for us to engage with industry professionals, sharing our insights and expertise in creating customized play areas. We emphasized our commitment to safety, quality, and innovation, as we discussed our turnkey solutions that guide clients from initial concept to final installation.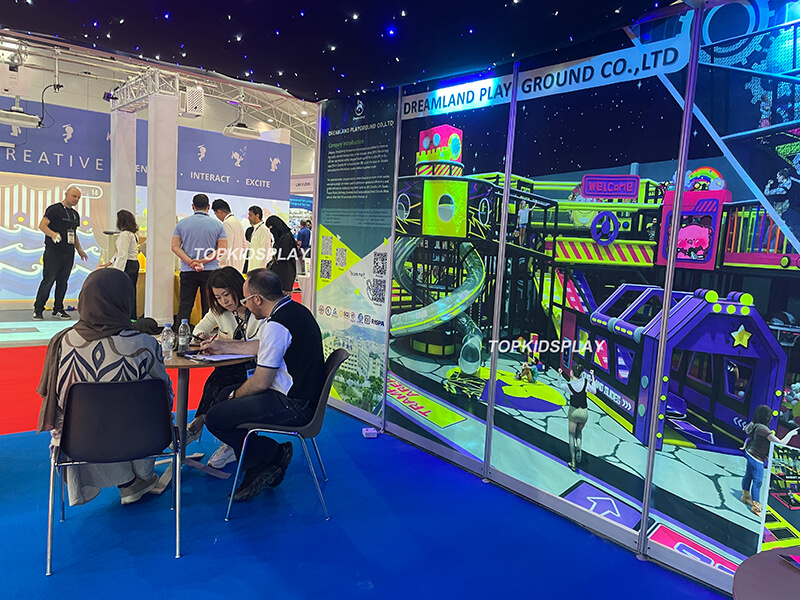 The connections we forged at SEA EXPO 2023 were invaluable. We established strong partnerships and collaborations with entertainment center owners, architects, and developers who share our vision of creating extraordinary play experiences for children.
Our participation in the event was a testament to our unwavering dedication to pushing the boundaries of indoor playground design. The positive reception and interest generated have reinforced our position as industry leaders and motivators of change.
We express our deepest gratitude to all who visited our booth and shared their enthusiasm for our products and services. In the future, we hope to have more chances to establish close relationships with our clients.